EPOCH Sales Management Solutions provides "Interim Sales Management" to help B2B Business Owners grow their businesses by developing their Sales Professionals and sales processes. Our focus and execution on sales team development helps catapult your business to the next level.
Our philosophy is that selling starts with the right strategy and the right people, while requiring repeatable processes, good sales coaching and sound tactical selling skills. It is about uncovering and covering all buyer roles, understanding what is in it for the key buyers and presenting your solution to provide personal wins and business results. You must know your target and identify the proper measurement metrics to keep your company's sales process on track. Managing the sales process also requires sales people to work their sales funnel with the right priorities to reduce the "roller coaster" effect. Trust between seller and buyer is required throughout the process or you may wonder why your buyers don't seem to be involved in the buying process anymore.
Our Founder: David Wuensch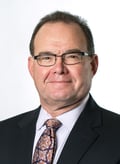 One of the benefits of launching EPOCH Sales Management Solutions for David is that he gets to combine his passion for selling, sales management and his desire to help people grow. David is an executive with 28 years of experience in sales and marketing, leading sales teams for over 10 years. He was consistently selected for high visibility special projects because of his expertise in breaking new ground and achieving results.
EPOCH Advisory Council
The EPOCH Advisory Council participates in the review of EPOCH Sales Management Solutions and validates real world applications: